Whether choosing the latest trending shoes to wear, selecting items that make a statement inside the home, or having a custom design added to the paint on a new car, most people love creativity. Even when it comes to garage floors at Richmond homes, people can be creative by mixing decorative concrete products.
If you appreciate unique things and spend a great deal of time in the garage at your Richmond home, you have the perfect opportunity to transform the appearance of the space. Smart homeowners use products like SunEpoxy 100 and SunEpoxy 54 to give their garage floors a distinctive look, and you can, too.
Although a top-of-the-line epoxy on its own will change the look of your garage floor, you can go a step further by introducing a second application. For instance, an installer can apply the color of your liking on the majority of the floor but then use a different color to create a border or interesting design. If you hire the right expert, that individual can even create a custom medallion, family crest, a famous quote, and so on.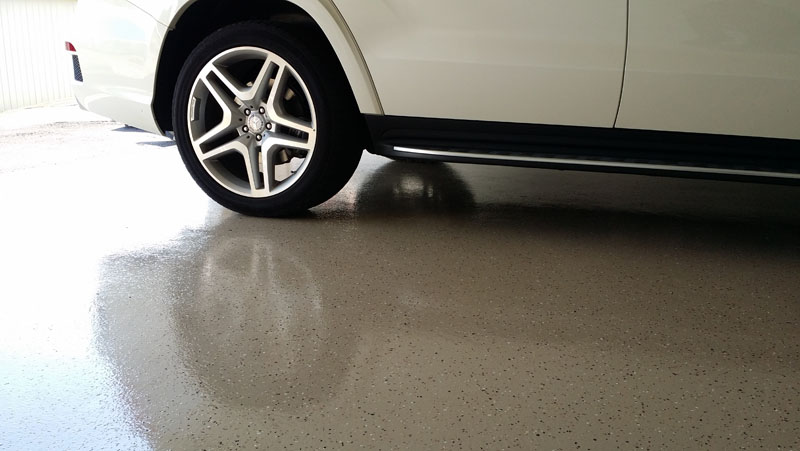 If you want the garage floor at your Richmond home to sparkle, the installer can enhance the base product. Whether you choose vinyl acrylic paint chips, colored quartz beads, metallic flakes, specks of glass, or something entirely different, natural and artificial lighting will cause them to shine. You will have not only a gorgeous primary color but also a sparkling effect to enjoy.
Something else to consider is using two different types of decorative concrete. As an example, you could go with stamped concrete and epoxy, polyaspartic and polished concrete, or a different combination to achieve the look you want. With so many color options, you can create garage floors that look refined and sophisticated, bold and eclectic, or rustic and charming. Select an experienced installer who uses quality products, and let the fun begin.