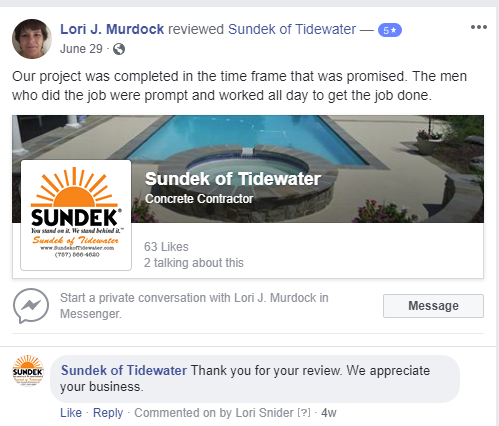 Yelp Review
Clarke Mahek 
Midland Va 6/28/2017
I just wanted to give a shout out to SunDek and there 2 workers they sent out for a warranty repair. There were there bright and early it actually woke up my kids for camp lol. They were pleasant to talk to and got the job done quickly. I would highly recommend them is your needing repair work or a full coating. Thanks again for a wonderful experience.
Customer Lobby Reviews
Florence Y. Virginia Beach, VA 09/15/2017
Good Experience!
This was my first time using Sundek of Washington and they did an excellent job. I would 100% use them again in the future. I had them come out to repair a deck around my pool. It looks good as new and I have no complaints. The workers were courteous of my home and very professional. I appreciated that they cleaned up after themselves when done. I highly recommend them to others.
Stuart A. King George, VA 08/23/2017
ARTISTIC CREW
The installers were exceptionally talented and efficient. Stone representation looks real. Installation was completed on time.
Mary K. Springfield , VA 06/14/2017
So Impressed With New Management! Fixed Their Mistakes!
I hired Sundek of Washington about 15 years ago to do the original deck around our pool. At first, the deck did not look quite right. There were slight cracks in it and it did not seem to be sticking well. Sundek came out a few times and tried to fix it, but it was still not what we wanted. I decided to go to the Dallas management of Sundek and complain to them about the poor service. They sent Bob, the general manager, and a team out to my house to evaluate the situation. Bob explained that they really did mess up and this was not the quality of work they wanted to represent their company. I was impressed that a company now in days stood behind their mistakes and promised to make it right. This demonstrates their company's integrity and defiance. Bob explained that they reorganized their company by changing their management and getting new products. They spent a few days carefully fixing our deck, and made sure I was happy with it once they were done. I always knew what was going on at every step of the process. My backyard deck is ABSOLUTELY PERFECT NOW! My backyard is my refugee; it is where I come to relax. Now that it looks beautiful, I can fully enjoy it and invite friends over! The crew went out of their way to help me move my furniture back to its place as well. The new management and crews are professional, polite, technical, grounded, and kind. I recommended Sundek of Washington to friends and family, which I only do when I am sure they will provide great service. I am so impressed with Sundek of Washington and trust that they will provide great service to everyone who hires them!
Loretta Horn M. Vienna, VA 05/15/2017
VERY PLEASED!
Sundek recently did our very large pool deck (apartment community). We are so impressed with the professionalism and competence. And the deck looks GREAT!
Sundek did a pool-deck project for the apartment community I manage. They were super responsive and managed to get the project done beautifully within a very restricted time-frame. We are very pleased with their work and would absolutely refer them!
Jackie Shea *****5 star June 30 2016
I contacted sundeck for two important projects at our hotel. We needed a quick turn around. John was a delight to work with. he completely understood and executed our vision and personally ensured that I had nothing to worry about. both of our patios look amazing !! John Burns, thank you for your professionalism and for actually listening to what we wanted. I will not hesitate to use or to recommend you guys again for any upcoming projects. thank you once again!!
C.T. Riel Mt. Airy, Maryland
Gentlemen, Work has just been completed on job, which included the decking around my pool, the side entrance to our home, and the front sidewalk and steps at the front entrance to our home. The work took a period of four days which included the loss of one for weather. I can't give your crew anything less than an excellent rating in all areas. They were polite, diligent, very hard working, and are nothing less than artists with your product!!! The quality of their work is outstanding. They did a very fine job of protecting everything that even had the possibility of being damaged in any way. Their cleanup was, again, outstanding. Not only do I love their work, but my wife also thinks it is fabulous!! I will be more than happy to recommend you you folks. Please give special notice to the crew who did my work. They earned a hearty well done!!!! C.T, Riel
Charles T. Riel, Jr. on Sep 14, 2015