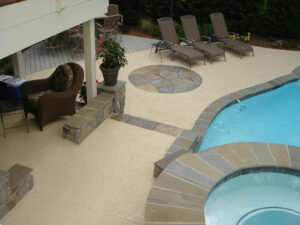 Sundek of Tidewater provides expert pool deck refinishing in the Williamsburg, VA area. The variety of housing in the historic Williamsburg area ranges from colonial styles, to Federal period row houses, to generously sized modern units on spacious lots. In our area, outdoor living spaces are an important part of our recreation and entertainment. Our area has four seasons and cold, icing, and winter road chemicals can damage concrete surfaces. Sundek of Tidewater's experienced deck installers can repair, upgrade, or replace an existing poolside deck area.
Our services are tailored to meet the needs of our customers. We can provide resurfacing for unfinished or weatherworn concrete surfaces. This process will add both a protective coating and color. For locations that have a prior installation that is older and faded, we offer a resealing service, which adds a custom color and a like-new finish.
To transform a drab area into a focal point for outdoor entertainment, we recommend Sundek Classic Texture. This outstanding Sundek solution adds appeal, safety, and functionality to any outdoor space. Its texture will cool surface temperatures in intense sun and heat, and provide excellent footing when wet. The remarkable beauty of the rich colors and mosaic pattern impresses guests and adds to the enjoyment of poolside areas. We serve commercial and residential areas and we offer free estimates.
At Sundek of Tidewater, we welcome calls and questions from our area residents about our pool deck refinishing products and services. Please call (757) 566-4620, as we have staff standing-by to arrange for free estimates, quotes, and to answer inquiries. Customers can also get detailed information about our high quality installations on this company website. Our commitment to excellent customer service begins with the first call or online contact, so please call or make an online request for a quote today.