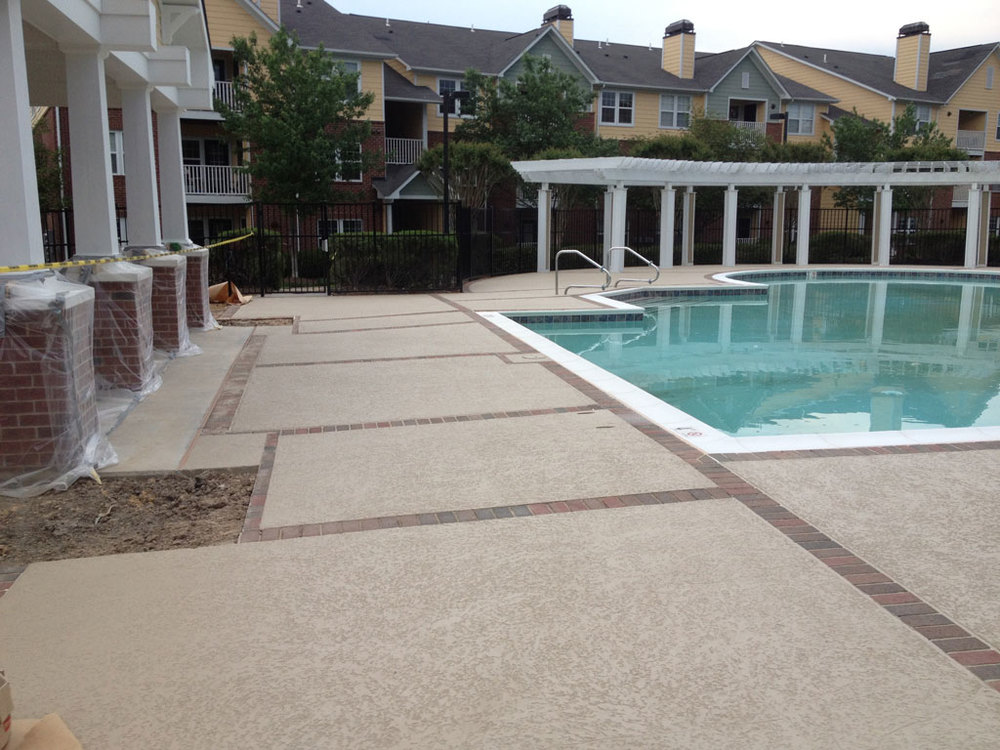 A challenge with owning a townhome is that most townhomes look the same. If you were to drive down the street, you would quickly notice very few differences between one townhome and another. If you want your Williamsburg townhome to stand out, you might consider some of the outstanding options for concrete patios.
As an example, you can have stamped concrete installed, which would give your patio distinct personality and character. In place of an ordinary gray floor, you can have a professional use a stamped technique that makes it look like natural flagstone. Another excellent option is a patio floor that appears to be expensive tile, brick, or even wood. When finished, your friends, family, and neighbors will not be able to tell the difference. Immediately, your Williamsburg townhome looks nothing like the others.
You can also have a beautiful design created using decorative concrete. For instance, you might consider having your family crest applied, or perhaps you want something more elaborate in the form of a 3-D design that looks like the ocean, complete with fish and coral. Especially if you have a backyard pool, the latter would be an excellent way to enhance your townhome patio.
Another one of the more popular options for concrete patios at Williamsburg townhomes consists of mixed materials and techniques. For instance, you can have stamped concrete installed on your patio floors to look like real river rock. To complement the floor, you could then have stamped concrete that mimics cobblestone installed on your outdoor kitchen countertops, fireplace surrounds, a fire pit, water feature, and more.
Some people with townhomes in Williamsburg prefer concrete patios that are more colorful and vibrant. In this case, a water-based acrylic coat, like SunColor, is perfect. Available in a broad range of exciting colors, a professional installer can achieve virtually any aesthetic that you want. If you want a concrete floor that looks like brightly colored puzzle pieces, no problem. If you want a stunning golden color over the entire surface, that too is no problem.
You can also coordinate your patio and pool deck by using a product like SunSplash. With a walkway built between the two, you end up with a cohesive look that complements your entire townhome. Regardless of which option you choose, all of your neighbors with their plain concrete patios will be envious. After the installer adds a quality sealer to the surface, the color and design have protection for years.