If your concrete is cracked, chipped, fading, spalling, or has any other type of cosmetic damage, SUNDEK of Tidewater can repair it!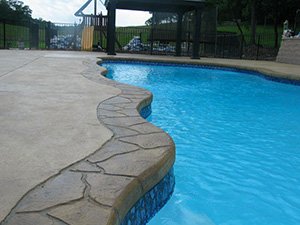 Not only do we resurface floors and patios—we are also experts in concrete repair.
When to fix damaged concrete
If you spot an area of your concrete that's damaged, contact a professional as soon as possible. If you let damaged concrete sit for too long, it's possible that the damage will get worse—especially in this area of the country.
For example, a small crack may seem insignificant, but it can turn into a larger problem. If water seeps into the surface of your concrete through the crack, freezing cold temperatures can cause the crack to expand and damage your surface even more.
[templatic_button link="/contact-us/" size="large" type="primary"] Contact us to get an estimate [/templatic_button]
Repairing damaged concrete yourself
While it's possible to fix concrete damage yourself, we don't recommend it. Professional contractors, such as the installers at SUNDEK of Tidewater, are familiar with common pitfalls you might face when repairing concrete. We also know the best weather conditions to repair in, and we know how to prevent damage from happening again.
What SUNDEK of Tidewater will do
We will assess the existing damage and determine whether repair is required. Not only will we fix the damage—we'll also determine how to prevent it from happening again. We can also resurface the concrete so your space looks brand new.
Contact us about repairing your concrete
We'd love to take a look at your concrete. Contact us in one of the following ways so we can get started.
Call us: 877-434-9335
Email us: sundektw@gmail.com
Or fill out the form on this page
We serve homeowners and business owners in Chesapeake, Hampton Roads, Newport News, Norfolk, Richmond, Virginia Beach, Williamsburg, Yorktown, and other areas of Virginia.