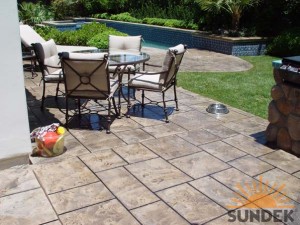 To make better use of the back yard, many are adding concrete patios. A patio will offer more usable space, as well as beauty and considerable style. But there are some things to know before embarking on this journey. Getting the right patio means knowing more about your options, its benefits, the costs, and any upkeep needed, like how to clean molds and cracked areas.
Stamped Concrete Patio Designs and Layouts
Many people assume that the only option for patio construction is a large, plain cement slab in the rear of the home. But the truth is there are multiple different patio designs and layouts that are beneficial. Before constructing a patio, take the time to consider how you will be using your back yard or exterior concrete. This planning is important. What areas of the yard will see the most frequent use? How can those areas be connected to a rear entryway? Do you require entertaining space, or will you use it primarily for your family? All of these considerations play an important role in the design, shape and size of any patio.
Patio Ideas for You
You do no need to settle for a plain, gray slab. Some of the most beautiful patio ideas involve imprinted concrete and adding unique colors to create a vibrant outdoor area that feels alive. Whether the goal is a large space for entertaining, or a cozy patio for only a few people, you can use imprinted concrete Chesapeake to create multiple looks, including stone, tile, brick and other materials. Adding concrete coloring will achieve patterns and colors that go well beyond the humdrum gray of standard, plain concrete.
Know Your Decorative Concrete Contractor Virginia Beach
Before starting to plan your patio, though, you must know where to turn for help. Going it alone is a rather impractical option. It can be very time consuming, and you must know what you're doing to get the ideal results you want.
A much better idea is to partner with a leading Virginia Beach concrete contractor, Sundek of Tidewater. Not all contractors are worth your time. Ensure you choose the right company for your needs.
We serve Virginia Beach, Chesapeake, Yorktown, Richmond, Williamsburg, Newport News, Hampton Roads and surrounding areas.

Sundek of Tidewater
8018-4A Hankins Industrial Park
Phone: (757) 566-4620
Fax: (757) 566-4529
Call us today for FREE estimate!